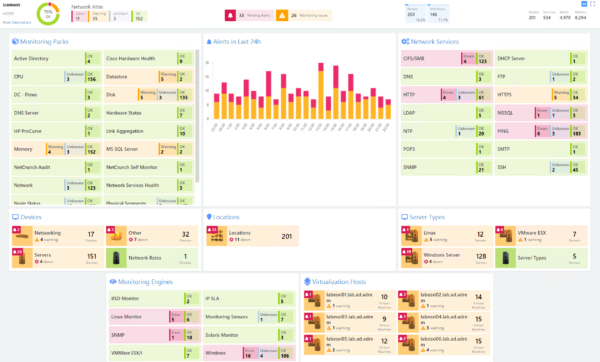 NetCrunch | IT monitoring software | Management software
NetCrunch | IT monitoring software | Management software
$1,075.00 – $3,305.00
$1,075.00 – $3,305.00
IT monitoring software – advanced, scalable and easy to use
Compare
Compare
Description
SYSTEM REQUIREMENTS
Reviews (2)
Description
NetCrunch is a smart, agentless network monitoring and management software system that is capable of monitoring any SNMP device as well as servers, switches, routers, printers, environmental sensors.
It monitors operating systems (Linux, Windows, VMWare ESX/ESXi, Mac OS X, Solaris and BSD), event logs, text logs, syslogs, and network services in your network.
Developed by AdRem Software, NetCrunch helps businesses of all sizes to track, visualize, and troubleshoot their IT network performance.
AdRem NetCrunch offers a wide variety of features, including capacity monitoring, service desk management, Windows diagnostic tools, remote access, IP address monitoring, progress report, and more.
If you need to know what's in your network and where it is, how it is connected, what's the root cause of the problem and how to optimize your network performance, invite NetCrunch to join your IT team.
Monitoring Packs, Services, and Sensors

Pre-compiled SNMP MIB modules included

500+ Vendors supported out of the box
Basic requirements are: 64 bit Windows Server, 2 processors and 3.5 GB of RAM – SSD driver is also welcome. NetCrunch is designed for running efficiently on both virtual and physical server machines. Hardware Requirements:
● Windows 7 / 8 /10 (Console)
● Windows 2012 / 2012R2 / 2016 / 2019 (Server)