PRTG Network Monitor | Monitor all the systems | Applications in your IT infrastructure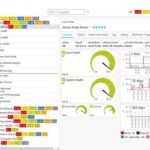 PRTG Network Monitor | Monitor all the systems | Applications in your IT infrastructure
$1,600.00 – $60,000.00
$1,600.00 – $60,000.00
Stay ahead of IT infrastructure issues
Compare
Compare
Description
System requirements
Reviews (3)
Description
Monitor all the systems, devices, traffic, and applications in your IT infrastructure.
Everything is included with PRTG; there is no need for additional plugins or downloads.
PRTG is a powerful and easy-to-use solution, which is suitable for businesses of all sizes.
Integrated technologies
PRTG monitors your entire IT infrastructure.
All important technologies are supported:
• SNMP: ready-to-use and custom options
• WMI and Windows Performance Counters
• SSH: for Linux/Unix and macOS systems
• Traffic analysis using flow protocols or packet sniffing
• HTTP requests
• REST APIs returning XML or JSON
• Ping, SQL, and many more
Maps and dashboards
Visualize your network using real-time maps with live status information.
Create dashboards with the PRTG map designer, and integrate all your network components using more than 300 different map objects such as device and status icons, traffic charts, top lists, and more.
Individualize your map using custom HTML. Once you're done, share your map as a URL that is accessible either publicly or only internally on your LAN.
Flexible alerting
PRTG alerts you when it discovers problems or unusual metrics
PRTG comes with many built-in mechanisms for notifications, such as email, push, or HTTP requests. With our free apps for Android and iOS, you can get push notifications delivered directly to your phone.
Adapt the notification system to suit your needs and schedule alerts (such as 'no low priority alerts at night'), or avoid alarm floods by using dependencies.
You can even use our PRTG API to write your own notifications.
We recommend that you run the PRTG core server as well as all remote probes
directly on x64 PC/server hardware
on Windows Server 2019, Windows 10, or Windows Server 2012 R2.
.NET Framework 4.7.2 or later must be installed on your system.
There are many parameters that influence the performance and stability of PRTG, but for the vast majority of PRTG users the following sizing recommendations for the hardware of the PRTG server work fine.